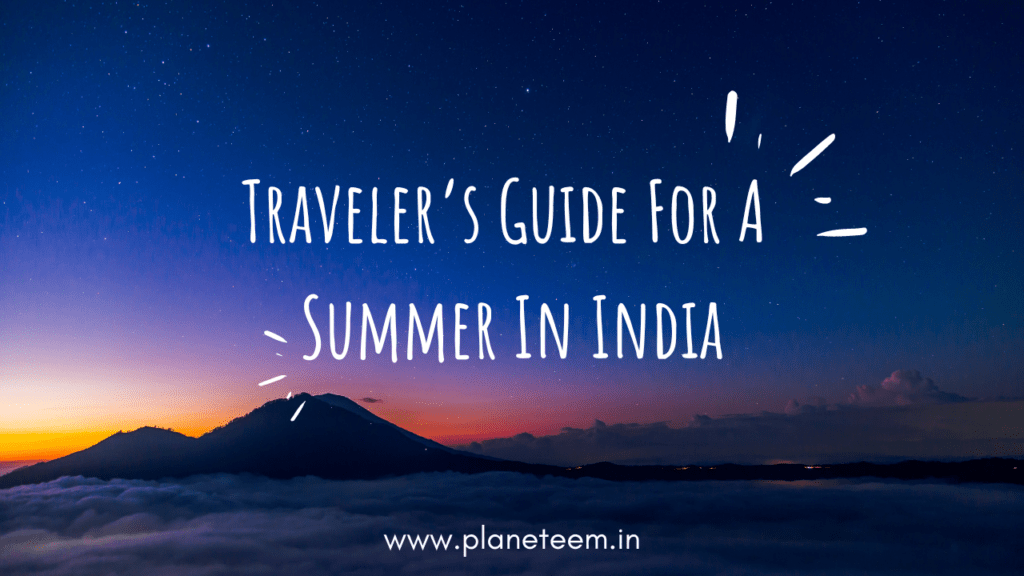 India is a land of diversity, and summer in India offers a plethora of options for travelers to explore. From stunning beaches to picturesque hill stations, from vibrant culture to rich heritage, India has something to offer for everyone. Here's an essay on summer in India as a traveler:
Summer in India can be a challenging time due to the high temperatures and humidity in most parts of the country. However, it is also the perfect time to explore some of the best summer destinations in India. Whether you're looking for a beach holiday, a cultural tour, or an adventurous trip, India has a lot to offer.
One of the most popular destinations for summer in India is Goa. The state is known for its stunning beaches, vibrant nightlife, and Portuguese-influenced architecture. You can spend your days lounging on the beach, sipping on some refreshing coconut water, or exploring the local markets and cafes. In the evenings, head out to some of the popular beachside shacks and clubs for live music and entertainment.
Another popular destination for summer in India is the hill station of Manali in Himachal Pradesh. Located in the foothills of the Himalayas, Manali offers breathtaking views of snow-capped mountains, lush valleys, and gushing rivers. You can enjoy adventure sports like river rafting, paragliding, and trekking, or simply soak in the natural beauty of the place.
If you're looking for a cultural tour, Rajasthan is the perfect destination for you. With its majestic forts, palaces, and museums, Rajasthan offers a glimpse into India's rich heritage and cultural diversity. You can explore the stunning cities of Jaipur, Udaipur, and Jodhpur, and immerse yourself in the local culture and traditions.
For those seeking a spiritual journey, the state of Uttarakhand offers several options. From the holy town of Haridwar to the scenic hill station of Rishikesh, Uttarakhand is home to several spiritual and yoga retreats that offer a peaceful and rejuvenating experience.
There are many travel apps available for travellers in India. Here are some of the best ones:
1. MakeMyTrip: MakeMyTrip is one of the most popular travel apps in India. It allows users to book flights, hotels, buses, and trains, as well as holiday packages. The app offers exclusive deals and discounts on bookings, and also provides features like real-time flight tracking and cancellation protection.
2. TripAdvisor: TripAdvisor is a popular travel app that offers reviews, photos, and travel advice for destinations around the world, including India. The app helps users find the best hotels, restaurants, and attractions in a particular city, and also offers a feature for booking hotels and flights.
3. Ola and Uber: Ola and Uber are popular ride-hailing apps in India. These apps offer safe and convenient transportation options in cities across the country. Users can book rides in advance or on-demand, and also track their driver in real-time.
4. Google Maps: Google Maps is a useful app for travellers in India, especially if you are exploring a new city or town. The app offers detailed maps and directions, real-time traffic updates, and information on nearby restaurants, attractions, and other points of interest.
5. IRCTC: The Indian Railway Catering and Tourism Corporation (IRCTC) app is a useful app for travellers who are planning to travel by train in India. The app allows users to book train tickets, check seat availability, and track the status of their train in real-time.
6. Holidify: Holidify is a travel planning app that helps users discover new destinations and plan their trips in India. The app offers recommendations on things to do, places to stay, and local experiences in different cities and towns across India.
In conclusion, summer in India is a great time to explore some of the best destinations in the country. With its diverse offerings, India has something to offer for every type of traveler. However, it is important to plan your trip well in advance and take necessary precautions to ensure a safe and enjoyable experience.